Fair City News | Mar 22, 2010 | Comments 0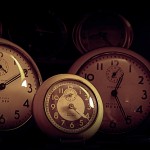 Columbia, MO—Local residents were reportedly forced into a strange and unexpected time warp Sunday which may be linked to an ancient tradition of sun worship. Several residents experienced the movement of time and space by exactly one hour.
"I woke up and started getting ready when I noticed that my phone and computer clocks were reporting a time of 8 am, while my wrist watch was showing a time of 7 am. I realized that my digital equipment was likely hijacked by alien beings from space," said Luke Stiller, a local mule trainer.
Sarah Quid, Another troubled SGFer confessed, "I work an overnight nurse shift at Columbia Regional hospital and toward the end of my shift all the clocks jumped from 2:00 am to 3:00 am. I mean everywhere, it was really, like, freaky and stuff. I better get paid for that missing hour, I'm just sayin'…"
Some Columbia residents expressed concern that the younger generation is experiencing a time change. Helen Hopkins, 89, said that all of her electronic clocks, hand-wound clocks and even her sundial are reporting the same time measurements. Mrs. Hopkins owns no digital time tracking devices.
Hopkins believes that the others were not thrown forward into an alien controlled time warp, rather that they had merely experienced the automatic recording of time as "daylight's savings time" is now observed. Reports show the existence of Daylight saving time, however Hopkins insisted that this was daylight's savings time as "this is when the days start putting away time for a future need."
About the Author:
Comments (0)