Fair City News | Apr 28, 2010 | Comments 3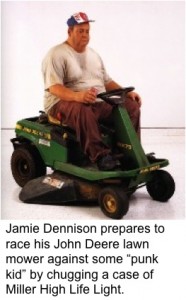 Ashland, MO—A slobbering, stinky man has been charged with racing a lawn mower while sipping on grandpa's cough syrup. Police Chief Howard says Jamie Dennison, 47, was arrested Friday on an overpass of Missouri highway 63 at Ashland, just south of Columbia.
Howard says Dennison, who lives in a trailer near Ashland, has a revokeddriver's license and several outstanding warrants for tractor racing. The chief says his blood-alcohol level was 0.094 percent and he was too intoxicated to test the lawn mower driver's blood-alcohol level. The legal limit for drivers is .08 percent.
Dennison is charged with misdemeanor driving while intoxicated, driving with a revoked license, driving an off-road vehicleon a highway and pathetic racing of lawn tractors. "Really what else is there to do in Ashland?" exclaimed Dennison who was challenged to a race by some "punk kid".
Howard said people with revoked licenses or previous drunken driving arrests often think it is okay to operate a lawn mower while drunk but it's illegal to drive any vehicle on a public thoroughfare while under the influence of alcohol or drugs, much less race them on public streets.
Says Howard, "There's really not much else to do around here 'cept drink and race lawn mowers. These people really need to find a new hobby before someone races their tractor off the side of a cliff."
About the Author:
Comments (3)