Fair City News | Mar 31, 2010 | Comments 0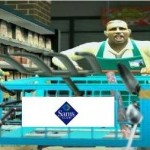 Columbia, MO- Apparently Carl Edwards' recent antics with Brad Keslowski on the racetrack are wearing off on his Mid-Missouri fans. What many often expect to be a pleasant Saturday morning shopping adventure at Columbia's Sam's Club has too often turned into a violent power struggle. As of March 29, 2010, over 20 people have been taken to area hospitals as a result of shopping cart incidents at Sam's Club.
"I see them (Sam's Club) lowering prices and there is no turning back!" Exclaimed Lauren Miller with a fire in her eye. Her story is very similar to many others trying to fit 4 carts down an aisle made for 3. Further, many patrons have loaded their carts beyond capacity extending into other's personal space.
"I am not wasting my time waiting for someone to think before purchase, time is money. Besides, NASCAR will be on soon and lord knows I am not missing that," said a frustrated Kyle Youngfield. He is also not alone, but his lack of patience has turned many Sam's Club customers into University Hospital customers. Injuries are often broken ankles and legs, but they are turning psychological.
"It is a very serious issue we are addressing among our members, said store manager Tom Conroy, "Not only is it dangerous, but those are sales we are losing as the ambulance drives away." Many have added some form of cart etiquette is needed to maintain a level of order. A highway for carts has even been proposed along with the new addition to bypass the clothing and outdoor section to get straight back to the grocery and alcohol sections of the store.
While many think the grocery carts painted as NASCAR cars were for kids, others believe there is a hidden message behind the facade.
About the Author:
Comments (0)