Fair City News | Mar 22, 2010 | Comments 0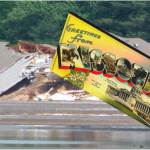 Columbia, MO – Residents of southeast Columbia were greeted with calamitous surprise this morning. At approximately 7:25 a.m. a large quarter-mile sized postcard sliced through a calm, peaceful neighborhood, crushing fourteen houses and damaging countless others. The massive postcard read, "Spring Has Sprung in Columbia Missouri," accompanied by a picture of a flowering hillside.
News of the catastrophe spread rapidly and a suspect was arrested quickly. The suspect is an enormous monster who goes by the name, Luke Wilson. Wilson had been arrested while standing in Missouri and Montana throwing postcards across the country with no regard for the human consequences. The only statement Wilson made was on his arrival up the courthouse steps. Wilson could be heard shouting, "I was only demonstrating the superior coverage of AT&T."
"I don't give a damn what he was demonstrating," said victim Charles Beaner. "That mammoth beast is responsible for making my two story home a split level. I'd like to rollover his minutes." The postcard stretches from I-70 all the way to Stadium Blvd. It sliced through the first houses it hit and then damaged several others as it fell on its side, nearly missing the Verizon Wireless store across from Columbia Mall.
I could see the great beast in the sky throwing cards haphazardly and I thought to myself, "Is that the guy from The Royal Tenenbaums? He's taller in person," said resident, Maggie Germaine. "I figure he must be angry about his career opportunities."
Governor Jay Nixon plans on calling the scene a disaster area, but can't get good enough reception to alert the proper authorities.
About the Author:
Comments (0)