Fair City News | Mar 22, 2010 | Comments 0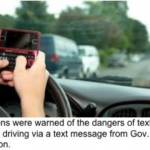 Jefferson City, MO—Governor Jay Nixon sent 6,000 text messages to Columbia, MO teens announcing the new ban in place barring teens from texting while driving. His message simply stated, "NEW BAN 4 TEENS HOO TEXT AN DRIV. DOAN BE DISTRACTD OR IMPAIRD WHILE OPERATIN UR VEHICLE. CALL ME LATR. GOV. NIXON."
State officials said the quickest way to alert teens to the new change in law was to send them instant messages. "The messages are instant," said Nixon. Distracted driving in any form is considered hazardous and the state thought it imperative to contact these teens as soon as possible.
Teen driver Lindy Holmgren said, "I was almost about to start my car when I received the text message from a Gov. Nixon. I was like, whateve lame. After I read it I totally blocked his number."
Other teens weren't so lucky. Austin Yammsville wrecked his car while reading the text message containing the new law changes. "Man, I was executing an attempt to parallel park and my phone blew up, so I checked it. Next thing I know, my rear bumper is two feet deep into a Chevy Tahoe. Thanks for the update G-Nix."
When alerted to the problems, a spokesperson for the Governor said he was resting at home with tender texting thumbs, however, we was pleased that the messages had all been received. If teens don't respond to the new laws, a new program is waiting in the wings. The Text-a-lizer, is an application installed onto a mobile phone that can detect if a teen has been texting and when activated will turn off the teen's vehicle or lock out the ignition system preventing an increase in unsafe roadways.
Filed Under: Featured • Technology
About the Author:
Comments (0)